A return to form in this week's free samsung apps chart, with some heavy hitters coming back to play.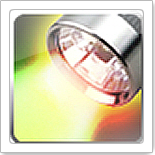 1. Angry Birds by Rovio
2. Color Flashlight HD by Social And Mobile Inc.
3. Monopoly Here and Now by Electronic Arts Nederland B.V.
4. Medieval Castle Defense by Yong-Eun Jung
5. Need for Speed Shift HD by Electronic Arts Nederland B.V.
Did anyone catch that documentary about the farmer that raised some Wild Turkey's on BBC2 last night? He lived among them as their leader, coaxing them from their eggs to maturity. At first, they were pretty helpless, as there are lots of natural predators in the American Wilderness, but once they got old enough, they became pretty tough cookies. Not quite Angry Birds but there you go. Color Flashlight HD is an interesting app, providing a best of breed solution to your darkness prevention requirements.. Not only can you have strobe flashes, but you can customise the colour of the light being flashed with a nifty colour slider... Same goes for flashed text messages or scrolling longer messages... Very nice stuff!
Color Flashlight HD's Output
We've looked at Medieval Castle Defense before and I'm not surprised its back on the list, as its a great game and bound to remain at the top of the charts for a while (just like the current #1).
Need for Speed Shift HD
Always happy to show a screengrab of the incredibly fluid Need for Speed Shift HD...In terms of classic arcade game law NFSS HD should of knocked Angry Birds off the top spot a long time ago. I'm guessing its all the new Android customers each week that keep it at numero uno... Its a heck of a lot of devices being activated I can tell you...
For more info about Samsung Apps check samsungapps.com